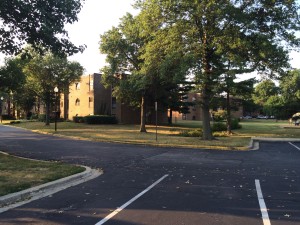 Fairwinds parking policy applies to all residents and visitors. In order to have your vehicle parked in Fairwinds lots please remember that all vehicles must display current tags/stickers as well as proper Fairwinds decals, permits, etc. Rules of safety and operation of any vehicle as followed by the State of Maryland is also required of any vehicle in our parking areas. Vehicles without decals or short term parking hang tags* are subject to immediate towing without notice. Our parking is limited
*The visitor hang tag can be used by residents on a short term, emergency basis (rental car, etc.) when the office is closed and a temporary tag cannot be issued.  However, hang tags may not be used in place of a decal for longer term parking.
Reserved Parking Spaces: Several parking spaces are marked "RESERVED" in parking lots throughout the community. Any vehicle parked in a reserved parking space other than the vehicle for which the space was assigned will be subject to towing at the vehicle owner's sole expense and risk.
For more information, please see: BOARD POLICY RESOLUTION NO. 9-9 VEHICLE CONTROL AND PARKING AREAS
Download Regular Parking Registration Form
Download Reserved Parking Registration Form