Patios and Balconies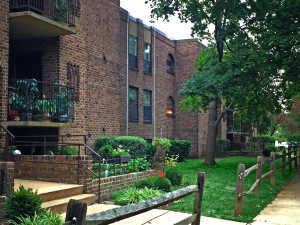 Patios and balconies are the responsibility of residents and should be kept neat and orderly. Storage of items is not permitted. Plants should not be allowed to grow higher than the railing height. No items (clothes, towels, etc.) are to be hung over the patios or balconies or on the railings. Nothing should be placed and/or attached to the outside of the railings (i.e. plant holders, flags*, etc.).* In accordance with H.R. 42 – the Freedom to display the American Flag Act of 2005, United States Flags are allowed within the owner's exclusive use space. Due to safety concerns, they must not extend outside the confines of balconies. etc.
Satellite dishes
Satellite dishes are permitted on balconies and patios in Fairwinds.  However, all satellite dishes must be kept within the confines of the residents "exclusive" use area. Satellite dishes may not be installed in any common area (grounds, roof, siding, etc.).  Dishes may NOT be attached to railings or fences.  Residents must complete a satellite dish request form before installing their dish.  This form is available in the Fairwinds office.
Building landings, foyers and entryways
These are not to be used for the storage of items (this includes plants, furniture, trash, etc.). It is a safety hazard. Any items that may be found in these locations will be subject to removal and disposal at your risk and expense.
Trash
Help keep your neighborhood clean: Dispose of trash properly. Use the dumpsters located throughout the property for trash disposal (no bulk trash). Do not leave trash (including cigarette butts) on the grounds or around the buildings. To avoid fines, please make sure that all items are placed in the dumpsters (Do not leave ANY items outside of the dumpsters).[/vc_column_text][/vc_column][/vc_row]