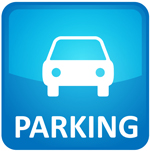 Any vehicle parked at Fairwinds without proper parking permits may be towed without notice.
Here's what you'll need in order to avoid being towed:
RESIDENT vehicles parked on Fairwinds property must display a valid Fairwinds Parking Decal clearly visible on the back window.
VISITORS need to clearly display a valid Visitor Hang Tag or Temporary Parking Pass on the rearview mirror.
RESIDENTS cannot use visitor hangtags in lieu of a parking decal.*
NO EXCEPTIONS!
Please make sure your vehicle has an authorized parking sticker and your guests display a Visitor Hang Tag or Temporary Parking Pass. All residents should have one Visitor Hang Tag for their guests. If you don't have one, or if you need Temporary Parking Passes for guests, see Mike in the office.
*The blue and white hangtag ("visitor hangtag") can be used by residents on a short term, emergency basis (rental car, etc.) when the office is closed and a temporary tag cannot be issued.  However, the blue and white tag cannot be used in lieu of a decal for longer-term parking.
Questions?
Email: manager@fairwindsofannapolis.org
Or call: 410-267-0566