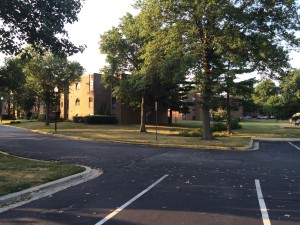 Do You Have a Valid Fairwinds Decal On Your Vehicle?
Fairwinds policy requires all residents register their vehicles with the Association Office to get a decal which must be fixed to the car and visible. Recommended locations are the rear bumper or window. Please note: we do not recommend placing stickers on any painted surfaces. If you know of any residents that do not have decals on their vehicle(s) please let the office know. We will follow up with these residents. Your help in making Fairwinds a better place for everyone to live is greatly appreciated.
Towing
We would like to take this opportunity to advise our residents that Fairwinds Condominiums has entered into a towing contract with North County Towing.
You will notice their signs posted throughout the community with pertinent information such as their phone number in case your vehicle is towed for any reason.
In order to have your vehicle parked in Fairwinds lots please remember that all vehicles must have current tags/stickers as well as proper Fairwinds decals, etc. Rules of safety and operation of any vehicle as followed by the State of Maryland is also required of any vehicle in our parking areas. Vehicles without decals or short term parking hang tags* are subject to immediate towing without notice. Our parking is limited and we therefore do not allow abandoned or stored vehicles.
Should you have any questions concerning the above, please feel free to contact the on-site office at 410-267-0566.
Your vehicle has been towed?  Contact North County Recovery at 410-573-1682.
*The visitor hang tag can be used by residents on a short term, emergency basis (rental car, etc.) when the office is closed and a temporary tag cannot be issued.  However, hang tag can not be used in lieu of a decal for longer term parking.