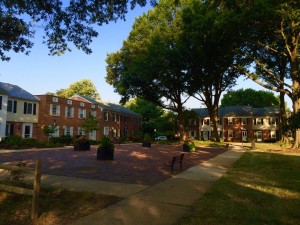 A lot actually.  GENERALLY speaking, the items your monthly fees cover include the following:
Gas use for heating, hot water, and cooking (excluding the townhouses) –

This is somewhat unique for a condominium community

Water and sewage expenses (excluding the townhouses)
General maintenance and repair of buildings, property and amenities, including:

roofs
brickwork
parking lots and roadways
tennis courts
swimming pool
playgrounds, etc.

Grounds maintenance services
Snow removal services
Pest and termite control (does not include extermination services – see below)**
Janitorial services
Pool management services
Electricity for common area lighting

Interior of buildings
Exterior of buildings
Courtyards, pool, and parking lots

Property management services
Employment of maintenance technician and office staff
Audit and tax preparation
Insurance on the property and buildings (does not cover personal property and upgrades)
Production and distribution of association newsletter
Taxes for the association
Legal fees and court costs
Funding for replacement reserves (to enable funds available for major repair/replacement expenses for such items as:

roofs
curbs and sidewalks
building exteriors
landscaping
playgrounds
streets and paving
tennis courts
pool
plumbing and common electrical, etc
** Fairwinds is not obligated to provide any pest control services, but we have chosen to conduct minimal pest control spraying/inspections in the best interest of the community at large.
Fairwinds does not provide ANY extermination services.
Please note: Fairwinds does not offer or endorse any handyman services.